and available at PRIME Motorsport
KCK Lubricants Promotional Packs
KCK RE 11
Promotional Packs
KCK RE11 20W50
Performance Mineral
Engine Oil

KCK RE13
SAE 90 Gear Oil

KCK RE79
DOT 6 Motorsport Brake Fluid

KCK RE37 Multi Purpose Grease
KCK RE 16
Promotional Packs
KCK RE16 10W40
Full Synthetic
Engine Oil

KCK RE13
SAE 90 Gear Oil

KCK RE79
DOT 6 Motorsport Brake Fluid

KCK RE37 Multi Purpose Grease
KCK RE 36
Promotional Packs
KCK RE36 10W40 POA
Full Synthetic
Engine Oil

KCK RE13
SAE 90 Gear Oil

KCK RE79
DOT 6 Motorsport Brake Fluid

KCK RE37 Multi Purpose Grease
Here in the workshop at Prime Motorsport we carry in stock, the full range of KCK Lubricants.
With our close working relationship with KCK we are in a great position to advise our clients as to the best KCK Lubricants for your needs.
KCK Lubricants has been developing and refining its range of oil products since 1982, many top level motorsport teams have used and still use KCK's products with great success in a wide variety of motorsport disciplines.
With constant investment and development to ensure we meet the demands of the modern race car has ensured a world class product with noticeable benefits over the competition with increases in service life, reduced failures and increases in power.
These products are NOT blended to keep the price down, it is NOT 'watered' down to meet budget or a minimum standard. This is a NO COMPROMISE performance oil for NO COMPROMISE performance engines and customers that demand the best possible products for their vehicle.
KCK Lubricants uses only the best available materials and the most accurate manufacturing methods to produce a level of quality higher than most.Outperforms all international specifications for premium performance Meets Manufacturers Specs & Exceeds Service Classification.
RE11 20w50 Performance Mineral Engine Oil
Suitable for Unleaded, Diesel, LPG, LRP, CNG Ethanol and Methanol engines / SAE 20W50. Formulated for performance pushrod applications, designed to increase horsepower & improved piston ring seal. Compatible with E85 and methanol fuels. Ideal for wet-sump supercharged drag race engines. Perfect for LS engines with high lift cams. Ideal for speedway and race boat engines. Suitable for big block muscle cars and blown street rods. Suitable for 4 stroke motorcycle applications with wet or dry clutch. High zinc content to protect camshaft & lifters in high lift, high RPM applications.
RE16 10w40 Full Synthetic Engine Oil
Suitable for Unleaded, Diesel and LPG cars / 10W40.  
Formulated for overhead camshaft engines. Ideal for dry sump applications. Compatible with oxygenated fuels. Ideal for turbo charged engines. Perfect for endurance competition use. Exceptional thermal stability for high RPM engines. Provides excellent protection for nitrous engines. Excellent start-up protection.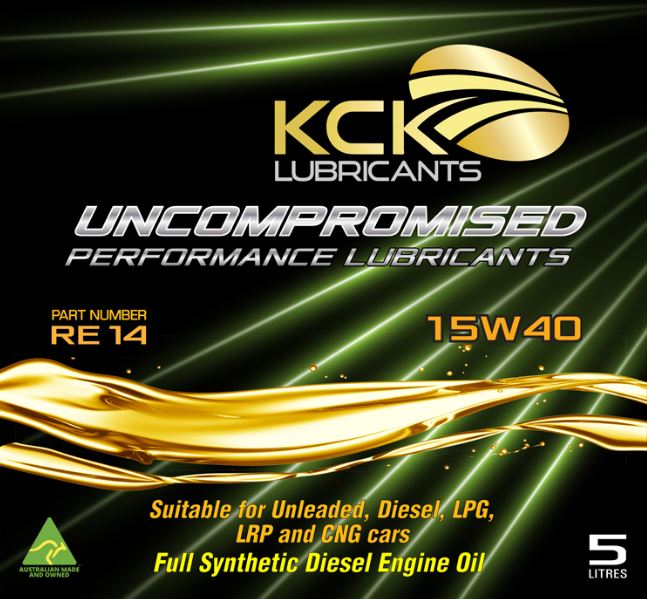 RE14 Full Synthetic Diesel Engine Oil 15w40
Suitable for Unleaded, Diesel, LPG, LRP and CNG cars / SAE 15W40.
Recommendation for all four stroke naturally aspirated and turbo charged engines. Meets every International specification for top performance and long service life in all four stroke naturally aspirated and turbo engines. Greater wear protection against soot induced thickening, valve train wear, ring and liner wear, oxidation thickening and piston deposit. Low ash. Advanced SHPD Diesel engine oil. Meets performance requirements on low emission engines. Unmatched stability in extreme conditions.
RE15 Performance 50 Engine Oil
Suitable for Unleaded, Diesel, LPG, LRP, CNG, Ethanol and Methanol engines SAE 50, Group 2 mineral based engine oil.
Formulated specifically for performance high RPM pushrod applications. Designed to increase horsepower and improved piston ring seal. Compatible with E85 and methanol fuels. Ideal for wet-sump supercharged drag race engines. Perfect for LS engines with high lift cams. Ideal for speedway and race boat applications. Suitable for big block muscle cars and blown street rods. Contain 2200 PPM Zinc anti-wear for unmatched protection. High Zinc content to protect camshaft and lifters in high lift, high RPM applications.
RE13 All Performance Gear Oil 90w
Suitable for differentials, gearboxes and transaxles SAE 90 GL-5/6
Specifically formulated to meet (XHT) extreme high temperature requirements. Specifically formulated to meet (XRM) extreme range multigear requirements. Designed to offer extreme protection in hard working applications. Suitable for non limited slip and limited slip differentials. Ideal for high speed transaxles used in motorsport applications. Offers unmatched protection in dog box transmissions. Suitable open wheel race car transmission. Offers unmatched protection and stability in high speed differentials. Recommended for 4WD vehicles fitted with diff lockers.
RE37 Multi Purpose Grease
Multi-purpose lubricating grease recommended for bearing application where operating temperatures are very high.

 Formulated for motorsport applications to handle very high brake temperatures. Will not melt like standard EP2 bearing grease. Specialised Additives enable KCK Multi-purpose grease to have excellent low temperature properties. making it suitable for applications where temperatures are below freezing. Ideal for automotive, marine and industrial bearings. Extended service life. Effective oxidation, rust and corrosion inhibitors. NLGI Grade 2 Timken OK load 18kg. Drop point = does not melt.
RE79 Dot 6 Motorsport Brake Fluid 320 Deg c
Use in all types of motor sport brake and clutch systems that are subject to higher operating temperatures.
KCK Lubricants Motorsport Brake Fluid is NON hydroscopic resulting is less moisture contamination and less corrosion to brake master cylinders, callipers and fittings. The hydroscopic nature of standard style brake fluid has always been the determining factor in its shelf life, service life and efficiency. The constant need to flush brake and clutch systems due to moisture contamination and the corrosive effects of the contaminated brake fluid can now be avoided. This same inherit issue of moisture contamination is the main cause for decrease boiling point and poor pedal feel. Low viscosity responds quicker to driver input and allows for even pressure distribution resulting in better pedal feedback and feel. Boiling point 320 deg C, compatible with DOT 3, 4, 5.1, suitable for use in ESC and ABS systems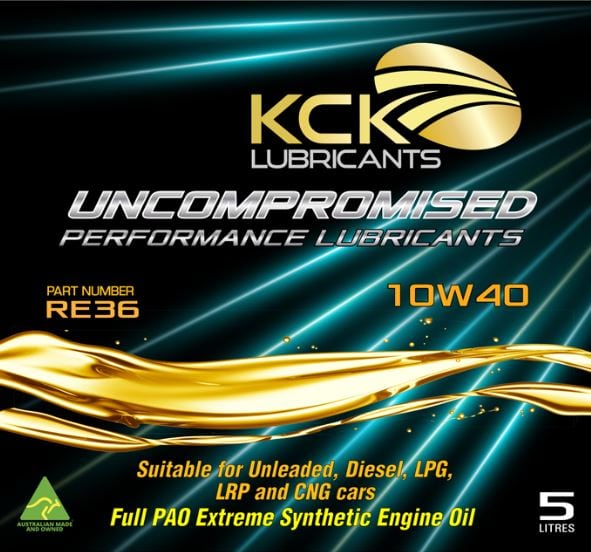 RE36 Extreme 10w40 Synthetic Oil
Full PAO synthetic 10w40
delivering an extremely shear stable high molecular weight petrol engine oil developed for high performance race engines, EXTREME 10w40 contains 2400 ppm ZDDP antiwear offering EXTREME and unmatched wear protection. EXTREME 10w40 meets or exceeds; SAE 10w40 race engine oil, API SN/CF … ACEA A3/B3, A5/B5-16 HTHS rated at 150 deg C, contains 2400 PPM Zinc antiwear. This product is made using Group 4 Synthetic PAO (poly-alphs-olefins) also using Group 5 Esters to further enhance product specific performance.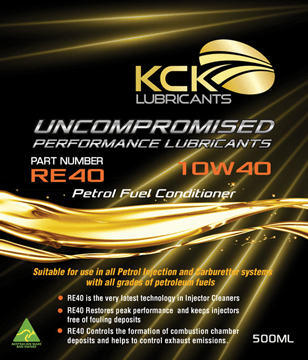 RE40 Petrol Fuel Conditioner
Suitable for use in all Petrol Injection and Carburettor systems with all grades of petroleum fuels.
The very latest technology in Injector Cleaners. KCK RE40 Petrol Fuel Conditioner Restores peak performance. Keeps injectors free of fouling deposits. Controls the formation of combustion chamber deposits. Helps to control exhaust emissions.
KCK RE40 Petrol Fuel Conditioner provides IVD keep clean, PFI keep clean and clean up performance.
Our formulation is based on Hybrid detergent, dispersant and fluidizer chemistries, and meets the EPA 1997 final rule regulation, section 211L of the Clean Air act.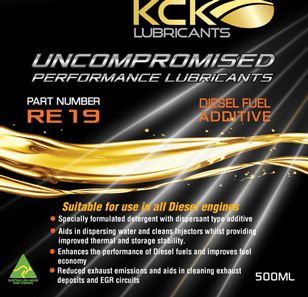 RE19 Diesel System Conditioner
Multi-function Diesel Fuel Treatment.
Specially formulated detergent with dispersant type additive. Aids in dispersing water. Cleans Injectors whilst providing improved thermal and storage stability. Enhances the performance of Diesel fuels. Improved fuel economy. Reduced exhaust emissions. Aids in cleaning exhaust deposits and EGR circuits.
When used at the recommended treatment rate, KCK Diesel system conditioner helps diesel fuels meet the National Conference on Weights and Measures (NCWM), Engine Manufacturers Association (EMA) and Truck Maintenance Council (TMC) requirements.
RE64 Running In Oil
designed for running in new and rebuilt high-performance and racing engines.
KCK Lubricants running in oil is suitable for use in a wide range of reconditioned petrol and LPG fitted engines specifying SD, SE, SF or SG classification oil. The advantages of this oil being mono-grade are the absence of friction modifiers which ensures the bedding in of rings and cylinders is quick and effective.
KCK running in oil is not recommended for new vehicles or for normal service periods. It is only recommended for the running in or bedding in period on reconditioned engines.
KCK Lubricants in stock at PRIME Motorsport,
Contact us to check prices.
Why not visit our other product pages while you are here?